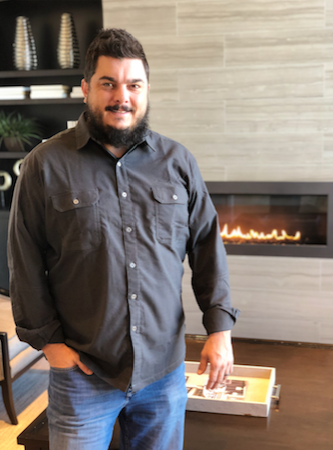 Ryan & CO has been with Keller Williams since 2012 and in the Real Estate Industry since 2008, previously working for a National Home Builder. Our main objective is "To Help People Grow Through Real Estate" focusing on providing a World Class Experience through our Concierge Listing Services, Complete Buyer Consultation and by using a high level of effective communication for a Hassle Free process. 
Seller's Concierge Listing Services include: 
Executive Consultation with Pin Point Home Valuation
Ryan & CO Luxury Marketing Suite including optimized Social Media Presence
Professional Photography
3-D Mapping and Virtual Photography
Drone Videography
Floor Plans
Staging Consultation
Professional Cleaning
Moving and Relocation Referral
Out Of State Relocation Referral Network
Property Specific "Home Book"
Mobile Notary Closing option  
Complete Buyer Consultation includes:  
Executive Consultation
Customized Home Search
Tailored Home Tours with Ryan and/or Showing Agent
Virtual Walk Through service
Inspector, Lender and Trade Partner Referral Group
Mobile Notary Closing option  
Ryan is Denver Native with roots that go back several generations. He is a true Colorado enthusiast and outdoor activist who is eager to just help people achieve their goals! With a passion for helping people improve their lives, it's not about "the sale" rather about ensuring his clients are able to achieve the goal of owning or selling a home. With his abundance of energy and drive, it's clear to see that his priorities ultimately are to help you Sell and Buy a home with the best terms, least amount of hassle to you and within the time frame you want it!
For more information on real estate services from Ryan & Co, Inc., phone 720-207-3992, or contact Ryan via email at ryan@ryanandcoinc.co
Bought a Single Family home in 2020 in Castle Rock, CO.
We had Ryan recommended to us by current neighbors. Ryan has extensive knowledge of the neighborhood we were building in as well as with the builder. He went to bat for us on many occasions during this long build process. We've bought and sold homes in the past but never had a new build. He showed us how different it is dealing with a builder than a traditional seller. He is extremely responsive and always calmed my nerves when something wasn't going to plan. We have a beautiful home now and we have Ryan to thank for that. We highly recommend him for your home buying and selling needs.
04/15/2020 – Vladika Tabbert
Sold a Single Family home in 2020 in Aurora, CO.
Ryan was an absolute pleasure to work with staring from day 1! From his wealth of knowledge, attention to detail, and ability to just get things done even during a health crisis (COVID-19) to getting us setup with a realtor in AZ for our new home, Ryan did a phenomenal job helping us achieve and even exceed our goal! We can't thank Ryan enough for all his hard work. I would definitely recommend Ryan if you're looking for a realtor you can trust.
04/07/2020 – tbourne05
Ryan provides his clients with gold star treatment, going the extra mile to ensure you are satisfied. Ryan's experience and expertise are on full display as he helps you navigate all of the steps involved in the buying and selling process. You can tell that he is well respected in our market because of the tremendous relationships he has built. I would recommend Ryan to anyone considering buying or selling a home in the Parker/Castle Rock area, especially those located in Cobblestone Ranch, due to his expertise in the neighborhood.
10/23/2019 – zuser20160426181126357
Bought a Single Family home in 2017 in Gateway – Green Valley Ranch, Denver, CO
Thanks again Ryan for all of you help!! We love our home!! 
01/20/2018 – Don Darouse
Bought a Single Family home in 2017 in Denver, CO
Ryan and his team are high energy, responsive and dedicated agents. Never more than an email, text or phone call away they were instrumental in helping my wife and I navigate our first-time home buying experience. With expertise, class and humor they helped us shed some of our fears and become more comfortable with the process. I look forward to keeping in touch with Ryan in the future and would highly recommend him and his team to anyone looking to buy or sell a house. 
12/14/2017 – moink2020
Working with Ryan was a great experience! His personality and his motivation brings a whole new level to the excitement of buying a home. Ryan has so much expertise and knowledge of real estate and will listen to you the buyer and he will do anything and everything to make sure that he finds the perfect home for you and he will also show you what to watch out for when looking at homes. Ryan will go the extra mile to be sure that you are taken care of! Ryan found the absolute perfect for my wife and I. We couldn't be happier with the home and we wouldn't be in this home right now if it were not for him! Thank you so much for everything you did for us.
11/25/2018 – dsgeyer88
Ryan Davis is hands down the absolute best broker that I have ever had the experience of working with. He is in tune with the needs of his clients, is real about the feedback that he provides regarding his clients best interest and is immediately responsive to any and all needs that are required to ensure a smooth transaction. 
10/23/2017 – kelly childress